---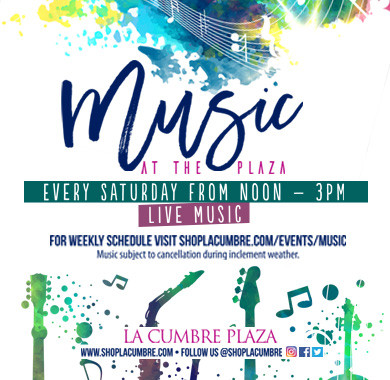 Join us on Saturdays from noon to 3pm for live music! Musicians will be located near Tiffany & Co. and XCVI.

Upcoming performances:
Feb 9: Piano Boys
Feb 16: Shelter
Feb 23: Montecito Jazz Project
Mar 2: Eje
Mar 9: Shelter
Mar 16: Montecito Jazz Project
Mar 23: Tony Ybarra
Mar 30: Piano Boys
Apr 6: Shelter
Apr 13: Tony Ybarra
Apr 20: Montecito Jazz Project
Apr 27: Piano Boys
May 4: Shelter
May 11: Tony Ybarra
May 18: Montecito Jazz Project
May 25: Piano Boys
Jun 1: Lawrence Duff
Jun 8: Piano Boys
Jun 15: Montecito Jazz Project
Jun 22:Shelter
Jun 29: Ken Faulk
Jul 6: Natalie Wattre
Jul 13: Piano Boys
Jul 20: Montecito Jazz Project
Jul 27: Shelter
Aug 3: Ken Faulk
Aug 10: Piano Boys
Aug 17: Montecito Jazz Project
Aug 24: Shelter
Aug 31: Lawrence Duff
Sep 7: Piano Boys
Sep 14: Shelter
Sep 21: Montecito Jazz Project
Sep 28: Natalie Wattre
Oct 5: Curt Crotzer
Oct 12: Piano Boys
Oct 19: Montecito Jazz Project
Oct 26: Shelter
Nov 2: Ken Faulk
Nov 9: Tony Ybarra
Nov 16: Piano Boys
Nov 23: Shelter
Nov 29: Tony Ybarra
Nov 30: Montecito Jazz Project
Dec 7: Tony Ybarra
Dec 14: Piano Boys
Dec 21: Montecito Jazz Project
Dec 28: Lawrence Duff


Performances subject to cancellation due to inclement weather.

Check back often for updates on performers!
If you are a musician would like to be considered to perform, please contact Alice Love.
BarnHouse Chicks Vintage Market
March 8, 2019 through March 10, 2019
Vintage Home Decor Pop Up Shop Experience. BarnHouse Chicks is collaborating with local vintage sma...
A Fashion Affair
May 4, 2019 1:00 PM - 2:30 PM
Get a front row seat as La Cumbre Plaza retailers hit the runway to showcase their Fall Fashion near...