---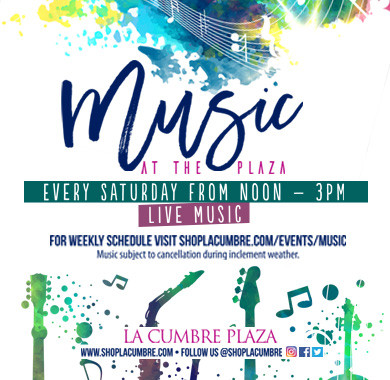 Join us on Saturdays from noon to 3pm for live music! Musicians will be located near Tiffany & Co. and XCVI.

Upcoming performances:

Jul 6: Natalie Wattre
Jul 13: Piano Boys
Jul 20: Montecito Jazz Project
Jul 27: Shelter
Aug 3: Ken Faulk
Aug 10: Piano Boys
Aug 17: Montecito Jazz Project
Aug 24: Shelter
Aug 31: Lawrence Duff
Sep 7: Piano Boys
Sep 14: Shelter
Sep 21: Montecito Jazz Project
Sep 28: Natalie Wattre
Oct 5: Curt Crotzer
Oct 12: Piano Boys
Oct 19: Montecito Jazz Project
Oct 26: Shelter
Nov 2: Ken Faulk
Nov 9: Tony Ybarra
Nov 16: Piano Boys
Nov 23: Shelter
Nov 29: Tony Ybarra
Nov 30: Montecito Jazz Project
Dec 7: Tony Ybarra
Dec 14: Piano Boys
Dec 21: Montecito Jazz Project
Dec 28: Lawrence Duff


Performances subject to cancellation due to inclement weather.

Check back often for updates on performers!
If you are a musician would like to be considered to perform, please contact Alice Love.
Parent's Night Out
July 19, 2019 5:00 PM - 9:00 PM | Kidaru
In need of a night out but have no one to stay with the kids? Bring them to Kidaru every Friday nigh...
Fiesta at La Cumbre Plaza!
July 28, 2019 through August 3, 2019
Join us for live Spanish music and Flamenco dance performances in the Macy's Court Monday, July 28 t...