---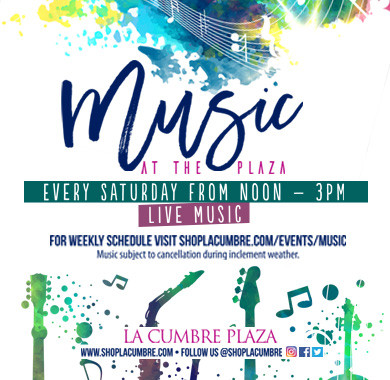 Join us on Saturdays from noon to 3pm for live music! Musicians will be located near Tiffany & Co. and XCVI.

Upcoming performances:

Nov 16: Piano Boys
Nov 23: Shelter
Nov 29: Tony Ybarra
Nov 30: Montecito Jazz Project
Dec 7: Lawrence Duff
Dec 14: Piano Boys
Dec 21: Montecito Jazz Project
Dec 28: Ken Faulk

2020
Jan 4: Shelter
Jan 11: Montecito Jazz Project
Jan 18: Nic & Joe
Jan 25: Piano Boys
Feb 1: Nicole Wattre
Feb 8: Montecito Jazz Project
Feb 15: Shelter
Feb 22: Nic & Joe
Feb 29: Piano Boys
Mar 7: Montecito Jazz Project
Mar 14: Piano Boys
Mar 21: Shelter
Mar 28: Nicole Wattre
Performances subject to cancellation due to inclement weather.

Check back often for updates on performers!
If you are a musician would like to be considered to perform, please contact Alice Love.
Season of Giving
November 21, 2019 5:00 PM - 8:00 PM | A Crimson Holiday
Celebrate the fun at The Season of Giving event at A Crimson Holiday - where we love to give you gif...
Parent's Night Out
November 22, 2019 5:00 PM - 9:00 PM | Kidaru
In need of a night out but have no one to stay with the kids? Bring them to Kidaru every Friday nigh...