---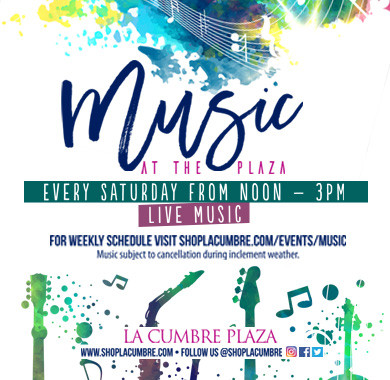 Join us on Saturdays from noon to 3pm for live music! Musicians will be located near Tiffany & Co. and XCVI.

Upcoming performances:

Dec 7: Lawrence Duff
Dec 14: Piano Boys
Dec 21: Montecito Jazz Project
Dec 28: Ken Faulk

2020
Jan 4: Shelter
Jan 11: Montecito Jazz Project
Jan 18: Nic & Joe
Jan 25: Piano Boys
Feb 1: Nicole Wattre
Feb 8: Montecito Jazz Project
Feb 15: Shelter
Feb 22: Nic & Joe
Feb 29: Piano Boys
Mar 7: Montecito Jazz Project
Mar 14: Piano Boys
Mar 21: Shelter
Mar 28: Nicole Wattre
Performances subject to cancellation due to inclement weather.

Check back often for updates on performers!
If you are a musician would like to be considered to perform, please contact Alice Love.
Photos With Santa
Now through December 24, 2019
Santa will be available for photos and visits at his holiday home, located across from Chico's and n...
Gift Wrapping
December 13, 2019 through December 24, 2019
Gift Wrap Hours: December 13: 5-8pm December 14: 12pm-6pm December 15: 12pm-6pm December 20: 5-8pm ...